Another PICAXE/Perl Data Gathering Application
Phase Meter Computer Interface
Sends pendulum phase and temperature data to a computer.
Please read first Electronic Pendulum Driver and Pendulum Phase Comparator for background on this project.

Max Carter
---
This article discribes the hardware that passes phase data from the pendulum phase comparator (phase meter) to a computer via the serial port, along with the program that makes it work. It's based on the very easy to use PICAXE 08M2 microcontroller. The article also shows how to install and run the Perl code on the computer that collects the data. The two programs form the core of the pendulum 72-hour phase record and 365-day phase record web pages. Some of the information presented might be useful in your own data-gathering application.
---
Computer Interface - As Built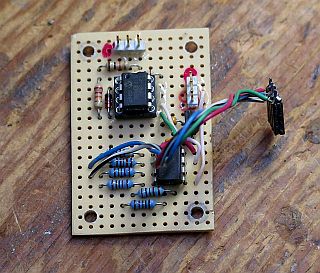 The interface plugs into the phase meter board. Connections to the temperature sensor and computer serial port are made through the 3-pin headers.


Interface Schematic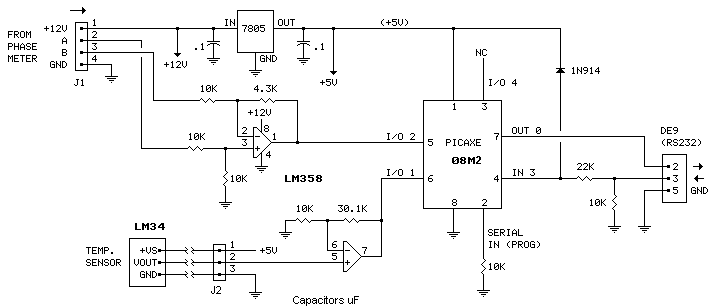 Parts sources shown below.
The interface monitors two analog voltages: the output from the phase meter's integrator (J1-2) and the voltage from a LM34 temperature sensor (J2-2) placed near the pendulum. The first section of the LM358 opamp shifts and scales the voltage from the integrator. The voltage presented to the 08M pin 5 varies from 1.0 to 4.5 volts, depending on pendulum phase. The 08M reads the pin 5 voltage and converts it to a binary word that varies from about 205 (dec) to 925 (dec). Note that the spread is 720. This number corresponds to the 720° peg-to-peg range of the phase meter.
The second section of the LM358 scales the voltage from the LM34 sensor. The opamp multiplies the sensor output voltage by four (4). The voltage presented to the 08M2 pin 6 can vary from 2.00 volts (50°F/10°C) to 4.16 volts (104°F/40°C). The 08M2 reads the voltage on pin 6 and converts it to a binary word that varies from 410 (dec) to 852 (dec).
When polled by the computer, the 08M sends the phase and temperature data (the two binary words) via pin 7 to the computer's serial port.